Application Requirements:
* Has been registered for at least 20 days or longer
* Scores must be greater than 5000
* Have a K/D ratio that of above 3.00 at the time of applying
* Has proficient flying experience with Rustlers and/or Hydras.
* Active in-game, at a minimum of 5 hours per week.
* Minimum of 15 years of age
Application format:
Current In-game name:

Wild_Wolf

Date of birth (DD/MM/YYYY):

23/06/1998

Preferred name if accepted (Must include the [SR71] tag):

Blackxs[SR71]

Have you previously held a position in SR71? If so, what were the conditions for leaving or being revoked from your previous position?

I've not remained a member of the clan SR71.

Age:

18

Your skills and profession:

I have skills with hydra, rustler, sniper and my profession is fly with a plane or sniper

Are you experienced with flying hydras and/or rustlers (Will be tested)?

Yes, sure

Image of your in-game stats: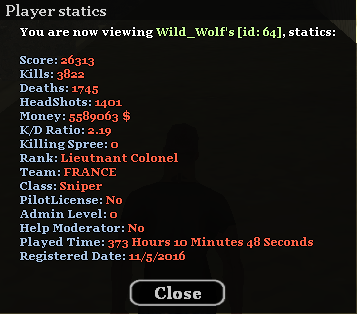 Acknowledgement that you have read, understood and interpreted the clan rules; and any punishment that is deemed within reason of breaching any act [Only requires a Yes/No answer]:

Yes

Blackxs

Very Important Person




Posts

: 110


Reputation

: 2


Join date

: 2016-05-15



**Requirements have changed. You have met the 3000 Kill count as per the change.

Congratulations, your application has passed the first stage and have met the requirements for joining SR71!

To complete your application, we will proceed to the second phase - the PFA. You have a choice out of two possible options: Either;

-Dogfight (Either with a Rustler or Hydra at your discretion) against a current SR71 Member. You'll have three attempts to shoot down the member, with you having 3x the HP of the opponent.
-A stunt (Either with a Rustler or Hydra at your discretion), we choose a random stunt for you to perform at and complete - the stunt will only be required to be done upright and not upsidedown ONCE; Upside down may be done at your own risk! You will also get three chances to perform the given stunt.

*Failing to complete the second phase will result in your application being denied, however you may wish to re-apply after one week.

Please reply below on what you wish to choose, and it will be arranged accordingly. Good Luck.
Intel i7 5930k - MSI GeForce GTX 1070 Sea Hawk X 8GB in SLI - EVGA GeForce GTX 1060 SC 3GB dedicated PhysX - Cooler Master Cosmos II Ultra -  Thermaltake Water 3.0 Ultimate - EVGA SuperNOVA 1200-P2 1200W PSU - Corsair Dominator Platinum 32GB DDR4 2666MHz - MSI X99A GODLIKE Carbon Edition - Samsung 256GB 840 PRO Series SSD - Samsung 500, 250 & 120 GB 850 EVO SSD's - Seagate Barracuda 1, 2 & 3 TB HDD's - LG 31MU97 31" True 4K monitor - Corsair K95 RGB - Logitech G900 - 9.2 channel Yamaha RX-A3050 surround sound system with Presence DSPs
Last edited by Wild_Wolf on Tue Sep 20, 2016 4:16 am; edited 2 times in total (Reason for editing : Editing)

Blackxs

Very Important Person




Posts

: 110


Reputation

: 2


Join date

: 2016-05-15



Test passed successfully
Accepted as a Junior Member, Congratulations.

[LOW]Roebuck

Lead Admin




Posts

: 1089


Reputation

: 31


Join date

: 2015-11-17


Age

: 18




Similar topics
---
Permissions in this forum:
You
cannot
reply to topics in this forum